Books by Pete Schipper
To purchase a book:
The in-print books can be purchased only from
Bookshop Santa Cruz
1520 Pacific Avenue
Santa Cruz, California, 95060
831.423.0900
Click here for online purchases. These books are not available at Amazon or Kindle and are not available as audio books (yet). If you would like an autographed copy or have any difficulty in ordering or purchasing a book, please contact me directly at [email protected].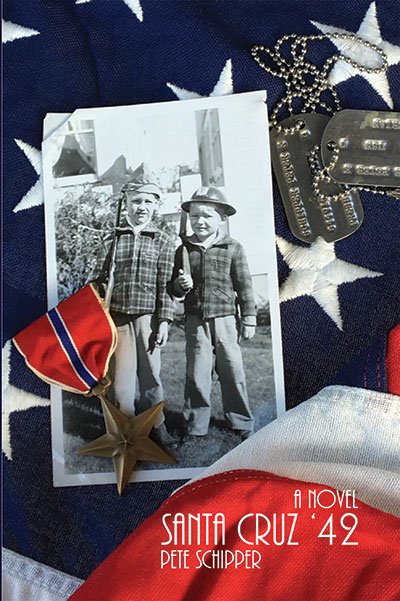 Santa Cruz '42
December 11, 1941, everything changed. Two months later, Charlie Stevens' father, Bryan, is in the army. A Japanese submarine prowls Monterey Bay. There's a Long Tom cannon and a machine gun emplacement on Lighthouse Point. Nighttime blackouts are the rule as air raid sirens pierce the night, summoning wardens to roam their neighborhoods and watch the skies. The Casa Del Rey Hotel is a convalescent hospital. Gas, meat and butter are rationed. Boy Scouts mount scrap drives, collecting newspaper, rubber and metal for the war effort.
Read More
         And yet, life in Santa Cruz goes on. Children still go to school. Moms still go shopping. Birthdays and holidays remain on schedule. The Del Mar Theater still shows movies and the Pep Creamery across the street still serves ice cream. A circus comes to town.
One day, 11-year-old Charlie and his best friend, Barry Bennett, are Kit Carson and Jim Bridger, Rocky Mountain trappers; the next day, dressed in army surplus gear, they're soldiers on patrol. A week later, they're dismantling roller skates to make orange crate scooters and before you know it, they're tearing down Miramar Hill on a patchwork soapbox car.
Through it all, Charlie's grandfather, Vernon Stevens, gently guides his grandson through lessons about Santa Cruz and nature, scouting and life… until that one day when the tables are turned: Vernon's life is suddenly at risk and Charlie and Barry are faced with a challenge that may be beyond their reach.
At my age, it took more time and effort that I'd like to admit to wander through the mists of memory and retrieve events from my early years in 1940's Santa Cruz. That said, I'm doubly grateful for the bounty of photos and article on the war years available online.
Nonetheless, writing this book was a lot of fun, for it was very much like re-living many of my childhood joys. Most of the accounts of each chapter actually happened, at least in part, like gleaning Brussels sprouts, the soapbox fiasco down Miramar hill, taking a ride in the locomotive, the abandoned house on Mission Street and the 'discovery' of the valley, complete with the Jewish cemetery on Meder Street. And yes, there really was a fern-covered cave with a small waterfall in the back.
In print. 315 pages. $14.00.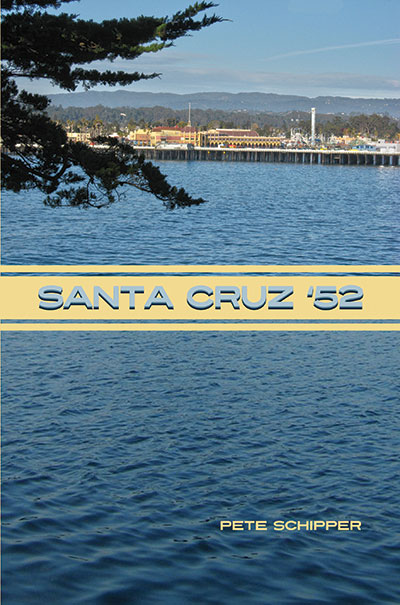 Santa Cruz '52
It's Saturday morning, the first day of summer vacation. Mission Hill Junior High is history and Santa Cruz High is a forever three months away. Join Marty and his pals, Sammie, Mitch, Kenny and Milo as they ride the roller coaster, cruise the Boardwalk, surf at Cowell's Beach, explore the IXL cave, and paddle canoes on Lent's Lake.
Read more
Take a trip back to the '50s as you stroll Pacific Avenue or enjoy raviolis at the Santa Cruz Hotel; stop for burgers and shakes at Spivey's 5-Spot, catch a movie at the Del Mar, or enjoy the best abalone dinner ever at the Palomar Hotel.
As a Santa Cruz native, I've revisited the places, events and people that comprised Santa Cruz of the '50s, recalling the small beach town as a warm and wonderful place to grow up. I invite you to come along for a visit to one of the greatest small towns on the California coast: Santa Cruz '52.
In print. 232 pages, $14.00
SKU: SC52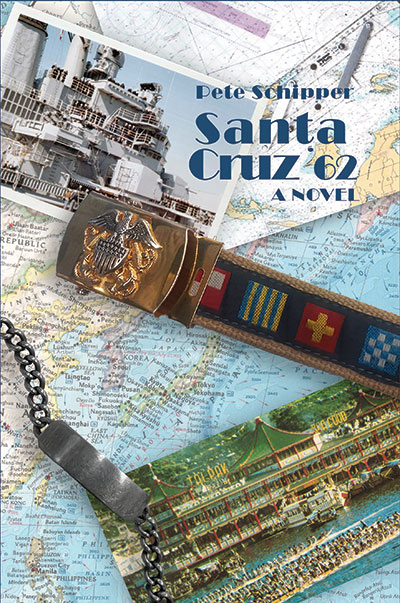 Santa Cruz '62
January 1962, Marty Stevens, born and bred in Santa Cruz and fresh out of Navy Officer Candidate School, receives his orders for the USS Santa Cruz, a cruiser based in Long Beach, California. After spending Christmas leave with his family, Marty reports on board to find that in addition to his duties as signals officer, he's also responsible for security… and there might be a traitor on board.
Read more
     John F. Kennedy is the President of the United States. Nikita Khrushchev is Premier of the USSR. With the Cold War in full swing, U.S. and Soviet relations are tense. At sea, Soviet trawlers shadow navy ships. In the southern states, racial tensions reach explosive levels. Staggering numbers of Chinese refugees flee for Hong Kong. U.S. military assistance groups arrive in Vietnam. In Cuba, Russian missiles threaten the U.S. And in Santa Cruz, life goes on.
    As tensions escalate, Marty's worst nightmare becomes real; not only is there a traitor on board the Santa Cruz, it's up to Marty to stop him from stealing the top secret material that could give the Soviet's an edge and tip the balance of power.
     Part history, part adventure, part mystery, Schipper takes the reader on a journey to Honolulu, Yokosuka, Kamakura, Nagasaki, Tokyo, Hong Kong … and Santa Cruz in 1962.
I've got to say, this was fun to write, as it recalled many good memories. My tour with the U.S. Navy actually began one rainy night in 1955 when Jack Benton, Frank Watson and I, thinking the navy was a better alternative to the draft, went to the Naval Reserve Unit in Santa Cruz and joined up. That summer, the three of us went to Boot Camp in San Diego.
            After graduating from college, I applied for OCS, received my orders a month later and was commissioned in December of 1960. Communication School followed, after which I received orders to the USS Los Angeles, a cruiser based in Long Beach. After a six-month deployment to the Western Pacific, I was transferred to Beach Jumper Unit One at the Naval Amphibious Base in Coronado and made a second Far East deployment.
In print. 282 pages, $15.00