Pete
Schipper
Writer
Pastor
Therapist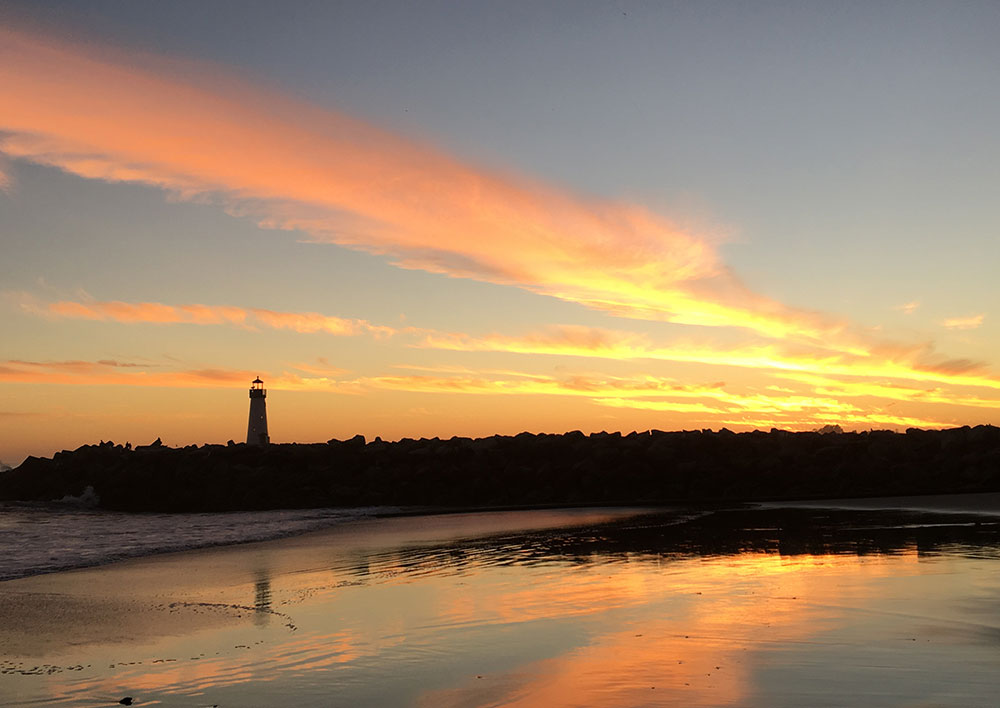 Come along for a visit to one of the greatest small towns on the California coast: Santa Cruz
Books by Pete Schipper
To purchase a book:
The in-print books can be purchased only from
Bookshop Santa Cruz
1520 Pacific Avenue
Santa Cruz, California, 95060
831.423.0900
Click here for online purchases. These books are not available at Amazon or Kindle and are not available as audio books (yet). If you would like an autographed copy or have any difficulty in ordering or purchasing a book, please contact me directly at [email protected].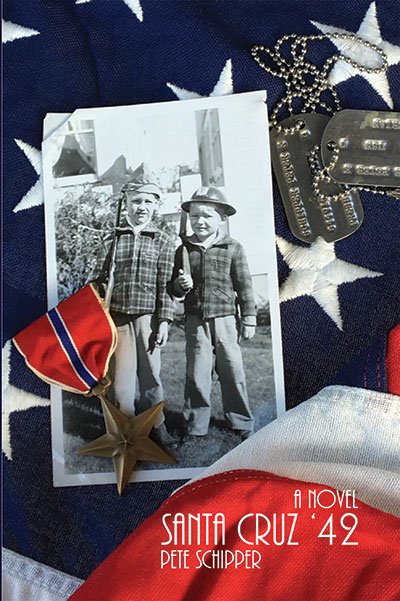 Santa Cruz '42
December 11, 1941, everything changed. Two months later, Charlie Stevens' father, Bryan, is in the army. A Japanese submarine prowls Monterey Bay. There's a Long Tom cannon and a machine gun emplacement on Lighthouse Point. Nighttime blackouts are the rule as air raid sirens pierce the night, summoning wardens to roam their neighborhoods and watch the skies. The Casa Del Rey Hotel is a convalescent hospital. Gas, meat and butter are rationed. Boy Scouts mount scrap drives, collecting newspaper, rubber and metal for the war effort.
Read More
         And yet, life in Santa Cruz goes on. Children still go to school. Moms still go shopping. Birthdays and holidays remain on schedule. The Del Mar Theater still shows movies and the Pep Creamery across the street still serves ice cream. A circus comes to town.
One day, 11-year-old Charlie and his best friend, Barry Bennett, are Kit Carson and Jim Bridger, Rocky Mountain trappers; the next day, dressed in army surplus gear, they're soldiers on patrol. A week later, they're dismantling roller skates to make orange crate scooters and before you know it, they're tearing down Miramar Hill on a patchwork soapbox car.
Through it all, Charlie's grandfather, Vernon Stevens, gently guides his grandson through lessons about Santa Cruz and nature, scouting and life… until that one day when the tables are turned: Vernon's life is suddenly at risk and Charlie and Barry are faced with a challenge that may be beyond their reach.
At my age, it took more time and effort that I'd like to admit to wander through the mists of memory and retrieve events from my early years in 1940's Santa Cruz. That said, I'm doubly grateful for the bounty of photos and article on the war years available online.
Nonetheless, writing this book was a lot of fun, for it was very much like re-living many of my childhood joys. Most of the accounts of each chapter actually happened, at least in part, like gleaning Brussels sprouts, the soapbox fiasco down Miramar hill, taking a ride in the locomotive, the abandoned house on Mission Street and the 'discovery' of the valley, complete with the Jewish cemetery on Meder Street. And yes, there really was a fern-covered cave with a small waterfall in the back.
In print. 315 pages. $14.00.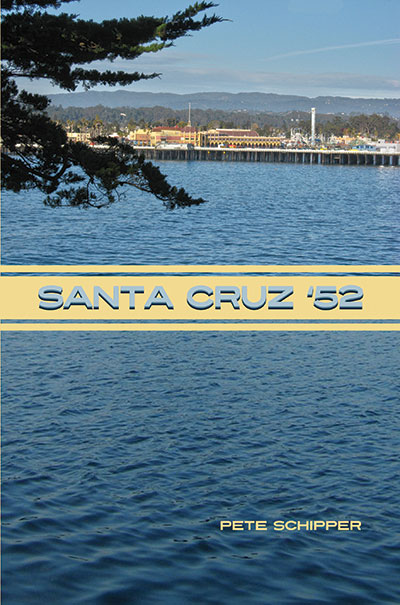 Santa Cruz '52
It's Saturday morning, the first day of summer vacation. Mission Hill Junior High is history and Santa Cruz High is a forever three months away. Join Marty and his pals, Sammie, Mitch, Kenny and Milo as they ride the roller coaster, cruise the Boardwalk, surf at Cowell's Beach, explore the IXL cave, and paddle canoes on Lent's Lake.
Read more
Take a trip back to the '50s as you stroll Pacific Avenue or enjoy raviolis at the Santa Cruz Hotel; stop for burgers and shakes at Spivey's 5-Spot, catch a movie at the Del Mar, or enjoy the best abalone dinner ever at the Palomar Hotel.
As a Santa Cruz native, I've revisited the places, events and people that comprised Santa Cruz of the '50s, recalling the small beach town as a warm and wonderful place to grow up. I invite you to come along for a visit to one of the greatest small towns on the California coast: Santa Cruz '52.
In print. 232 pages, $14.00
SKU: SC52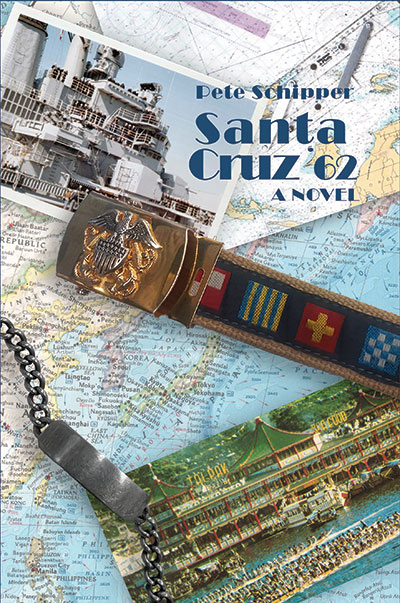 Santa Cruz '62
January 1962, Marty Stevens, born and bred in Santa Cruz and fresh out of Navy Officer Candidate School, receives his orders for the USS Santa Cruz, a cruiser based in Long Beach, California. After spending Christmas leave with his family, Marty reports on board to find that in addition to his duties as signals officer, he's also responsible for security… and there might be a traitor on board.
Read more
     John F. Kennedy is the President of the United States. Nikita Khrushchev is Premier of the USSR. With the Cold War in full swing, U.S. and Soviet relations are tense. At sea, Soviet trawlers shadow navy ships. In the southern states, racial tensions reach explosive levels. Staggering numbers of Chinese refugees flee for Hong Kong. U.S. military assistance groups arrive in Vietnam. In Cuba, Russian missiles threaten the U.S. And in Santa Cruz, life goes on.
    As tensions escalate, Marty's worst nightmare becomes real; not only is there a traitor on board the Santa Cruz, it's up to Marty to stop him from stealing the top secret material that could give the Soviet's an edge and tip the balance of power.
     Part history, part adventure, part mystery, Schipper takes the reader on a journey to Honolulu, Yokosuka, Kamakura, Nagasaki, Tokyo, Hong Kong … and Santa Cruz in 1962.
I've got to say, this was fun to write, as it recalled many good memories. My tour with the U.S. Navy actually began one rainy night in 1955 when Jack Benton, Frank Watson and I, thinking the navy was a better alternative to the draft, went to the Naval Reserve Unit in Santa Cruz and joined up. That summer, the three of us went to Boot Camp in San Diego.
            After graduating from college, I applied for OCS, received my orders a month later and was commissioned in December of 1960. Communication School followed, after which I received orders to the USS Los Angeles, a cruiser based in Long Beach. After a six-month deployment to the Western Pacific, I was transferred to Beach Jumper Unit One at the Naval Amphibious Base in Coronado and made a second Far East deployment.
In print. 282 pages, $15.00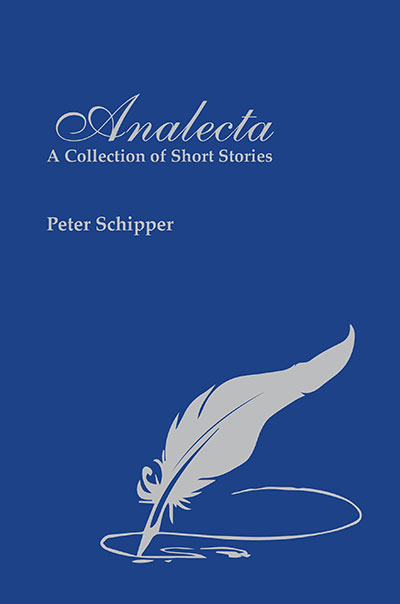 Analecta
Analecta. (anʹlek'ta). Plural of analect. Noun. 1. To pick up, gather up selected passages; 2. A collection of short literary or philosophical extracts; 3. A collection of miscellaneous information about a particular subject, person, place or thing. (Merriam-Webster Free Online English Dictionary).
Read more
Provocative, challenging, encouraging, hopeful, funny … Analecta is all of that, and more. As a pastor and psychotherapist, I wrote these ten short stories to explore various ways in which God prevails, Jesus Christ teaches and heals, and the Holy Spirit restores in our lives … sometimes without our knowing … sometimes for no other reason than we are the object of his great love.
In those times when we're offered opportunities to respond to the situations and people God brings before us, will we honor him in how we conduct our lives, or not? Analecta offers some alternative scenarios for your consideration, keeping in mind that Hamlet was right: to be or not to be the person God created is the question.
105 pages, $12.00
Special Order only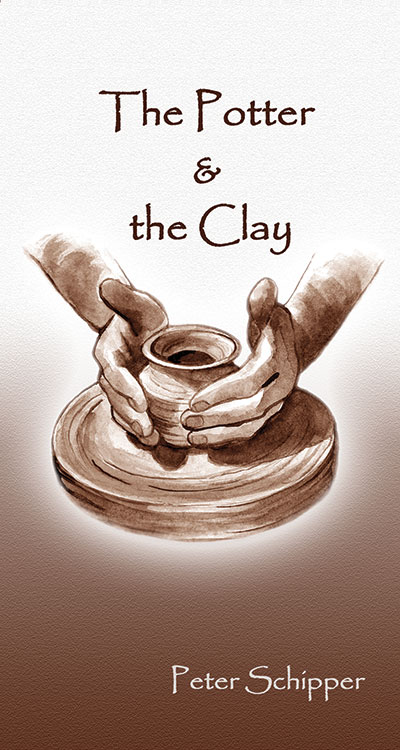 The Potter and the Clay
Early in my journey of Christian faith, Roger Moore, one of our pastors at Twin Lakes Church in Aptos, California, was teaching our adult Sunday school class. That morning, he compared our individual journey with Christ to flowing down a river. "We liken the river to life itself," he said. "It draws its many travelers relentlessly toward the end, sometimes flowing swiftly, even violently; other times, it is wide and placid. As a traveler, each person will flow down the middle, or will, at times, wander from side to side, usually on the surface. At other times, they may even be submerged.
Read more
"The river is full of rapids and pools, bends and rocks, sandbars and snags – let's call them trials and temptations to the people, the men and women and children who seek answers to life's questions, who are learning the lessons of what it takes to travel the river's course, and to find what gives them purpose, what brings them fulfillment.
"Because the river-journey is filled with these many challenges and trials and temptations, each individual will have numerous opportunities to answer to the call of self or to remain steadfast to the call of Christ.
"There will be loss and gain, birth and death. There will be joy and sadness, upset and peace, love and grace. Throughout the journey, each person who professes faith in Christ is called to maintain his or her faith, to honor God, and to honor one another.
"Observing the journey of each one of his precious children will be the Creator himself, watching to see what you – and you, and you and you – will do with his commands and with his promises. And he will be watching all the while to see what you will do with his son, Jesus."
I liked Roger's analogy. It fit where I was in my own journey down this river of life, what I was learning about what it meant to be a Christian (and I'm still learning, by the way). Not many days later, I came upon this quote by theologian and mathematician, Blaise Pascal, "What else does this craving, and this helplessness, proclaim but that there was once in man a true happiness, of which all that now remains is the empty print and trace? This he tries in vain to fill with everything around him, seeking in things that are not there the help he cannot find in those that are, though none can help, for there is a God-shaped void in the heart of each man which cannot be satisfied by any created thing but only by God, the Creator, made known through Jesus Christ." Then, when I read this passage in Isaiah, "But now, O Lord, you are our Father: we are the clay and you are the potter; we are all the work of your hand," these concepts coalesced and The Potter and the Clay was born.
I enjoy writing allegories. I find them a viable way to pursue ideas outside the box of conventional thinking, where analogies and poetic language fit well with the style and format. I like how the words flow to bring form and fit and credence.
My aim here, with The Potter and the Clay, is simple: to set down a form in which biblical truths and their life-giving principles – that powerful stuff that impacts and brings change and growth to our lives – can be conveyed in such a way as to encourage both thought and spirit, and perhaps, to prompt consideration for deeper truths of the Kingdom of God.
So it is I offer The Potter and the Clay, that 'out of his glorious riches he may strengthen you with power through his Spirit in your inner being, so that Christ may dwell in your heart through faith. And I pray that you, being rooted and established in love, may have power, together with all the Lord's holy people, to grasp how wide and long and high and deep is the love of Christ, and to know this love that surpasses knowledge – that you may be filled to the measure of all the fullness of God' (Eph 3:16-19 NIV).
92 pages, $12.00
Special Order only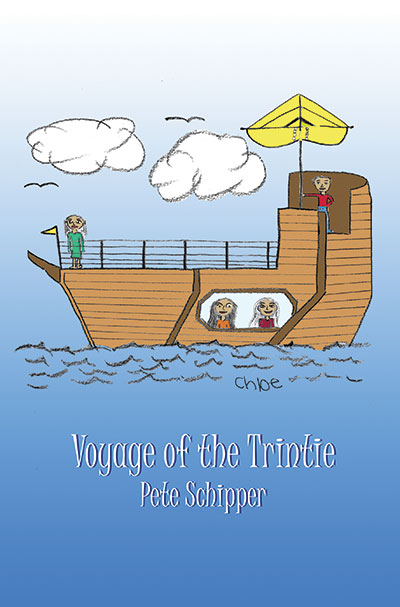 Voyage of the Trintie
Don't believe in mythological creatures? Neither did Hailey, Skyler, Chloe or Natalie ~ until they met them.
When their grandfather, Piet Van Zeiler, built a boat in the limbs of an ancient oak tree, they christened it the Trintie–then pleaded, "Please, Grampa, can we sleep in the Trintie tonight?" To their amazement, they woke the next morning to find the Trintie flying through a forest on her way to an adventure that would open the doors to astounding opportunities, sharpen their skills and challenge the limits of their endurance.
In print.
213 pages (ages 8-12 and more?)
$14.00 SKU: VOYAGE
Read more
Along with Egeria, regent over this strange land, Embla, the queen of the naiads, Ampelos, a stick-like person none of them could ever have imagined, and a quartet of fearsome gryffons, they answer the call to defend Lake Thalassa.
Here, the children come face to face with the baleful adversary, Xaxos, and his toad-like famulus, Gubgub, in command hordes of loathsome gaarlaks and a pair of lethal batractos, each one intent on their capture.
Can the children prevail against overwhelming odds? Will the values of faith and family serve to fulfill their challenge? Will their reliance on one another be enough to see them to victory?
After I built a treehouse in our backyard for our four grandchildren, I enjoyed seeing how much fun they had playing in it. Seemed like a good foundation for a fantasy, which also gave me a place to 'play' as I developed the characters and scenarios. I found Lake Thalassa a great place to spend time; every once in a while, I go there and have tea with Ampelos and Egeria.